GUITAR-LEADS.COM NEWSLETTER #313
Anthony Aja
April 2007
Beginning with the May 2003 edition, newsletters are now archived
online at: http://www.guitar-leads.com/newsletter.htm
CONTENTS:
ROCK & ROLL 101 Steely Dan
LEARN-A-LICK - Reelin' in the Years - Lead Guitar Solo
TRUE ROCK STORIES
THOUGHT FOR THE DAY
SUBSCRIPTION INFORMATION
1. ROCK & ROLL LEADS "101" - Steely Dan and Elliot Randall
A very important part of learning how to play the guitar to the best of your God-given ability, is to learn about the musicians who played an important role in influencing Rock & Roll guitar in the first place. As a part of this on-going newsletter, I will draw upon many examples, with the intent of showing and explaining different styles, rhythms, tones and other characteristics of playing the guitar. I want you to not only learn how to mechanically play the guitar, but to eventually be able to feel what you play. That will come later, but in time, you will come to realize that "feeling" what you're playing IS WHY YOU ARE PLAYING the guitar. It can and will carry your soul to different worlds.
This month's Rock & Roll history lesson is about one of the greatest JAZZ/ROCK/POP groups that ever recorded.
STEELY DAN
STEELY DAN (SD) is an amazing example of what a group of extremely talented musicians can do together. Consisting of 2 main characters, (and believe me, they are characters) Donald Fagen and Walter Becker write all of their music and constantly employ the services of the best musicians in the business. Guest artist guitar players have been Larry Carlton, Skunk Baxter, Elliot Randall and Denny Dias.) Some of SD'S tunes are: "Do It Again", "Reelin In The Years", "Rikki Don't Lose That Number", "Peg" "F.M." and many more.
Their 2nd charted hit, arriving in 1973 is "REELIN IN THE YEARS." ELLIOT RANDALL was the guest guitar player whose solo is ingrained in every rock guitar player's head BUT not necessarily in their fingers. Every time I play this song, it turns heads, because it is no easy feat to play. (It's like driving down the street in a Dodge Viper Or Lamborghini and watching the admiration and stares you get from owning such a beautiful piece of art.) It's a great exercise too, because it stretches your fingers across 4 frets in order to play it correctly. There are no dud Steely Dan CD's out there, so pick one up and get an ear full of great music. Now, please go get your guitar: we're going to LEARN A LICK!
2. LEARN-A-LICK - Reelin in the Years
Here's the part of the newsletter where you will have some work to do. In this section, I will show you an important Rock Lead (a LICK) for you to add to your list of riffs. We will learn the opening guitar RIFF in the SOLO section of the song "REELIN IN THE YEARS" on the CAN'T BUY A THRILL LP or CD.
Playing this lead cleanly and accurately and with the proper tempo, will be a great accomplishment. LET'S DO IT!
HINT: Before you get started, make sure that you position your left hand (if you're a "righty" guitar player) all the way under and around the neck. You will need all of the length of your fingers to hit your notes.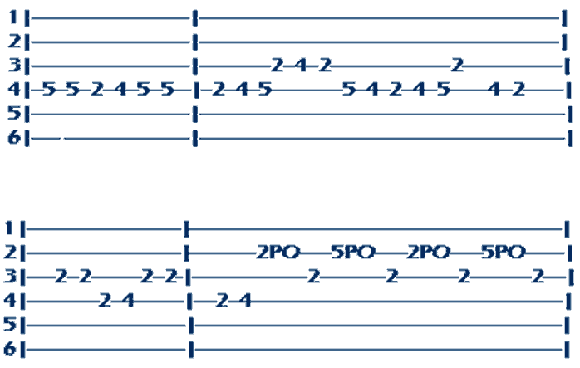 Here's how it should sound.

Here it is at ? speed so you can play along with it.
So, how did you do? Don't forget that the "upper case" "P's" mean to PULL YOUR FINGER OFF of the string without striking it. The "O's" mean that after you pull your finger off of the string, you will be playing an "OPEN" STRING. This is a great SOLO because it is a very unique guitar riff incorporating a SCALE APPROACH to a solo.

If you like the above approach to learning a new guitar riff, don't miss my guitar leads course. This 5 volume course contains hundreds of licks to some of rock's greatest all time songs. It features:


Real guitar sound
Full speed and half speed audio
Accurate tablature for each riff
100% money back guarantee
It is available for immediate download or can be ordered on CD. Learn what customers in 58 countries already know - not only will it help you become a better guitar player - but you'll have more fun learning than you will with any other course.
3. TRUE ROCK STORIES
Leaving the world of Corporate America to go play music for a living, was one of the greatest days of my life. No more Budgets, Audits, Deadlines, Reporting to a boss, etc... Now it was about me and my instrument and making people happy with my guitar.
My very first gig with PHIL DIRT & THE DOZERS (the nation's premier oldies band) was at a venue called The Folinger Theater in Ft. Wayne, Indiana. When I had performed with previous bands, I played for a few hundred people. This was different - playing for a "SOLD OUT" house of more than 3,000 people. Needless to say, I was a bit nervous, but at the same time very excited. I had never practiced with The Dozers but they were confident from knowing my past, that I would be able to do the job. (What Confidence?) Anyway, the concert started and I found myself playing songs that I had never played before and singing harmonies to songs that I had never sung before. It was a blast! We carried each other! I sang "THE UNCHAINED MELODY" by The Righteous Brothers and received a standing ovation. I had never gotten one before and it felt great. This was the "real thing." I knew that leaving my 'DAY JOB" was going to be OK!
The very , very important lesson here is - even though I did not plan to become a full-time musician, an opportunity had come and found me - and the only way this could have happened was because I taught myself to play the guitar well, years earlier. So, let me help you get ready for any opportunity that may come your way - or, if you play just for the fun and relaxation of playing guitar for yourself - let me help you play better and expand your song repertoire.
I tell you these stories about myself because it is my guitar playing that has given me the chance to fulfill many dreams. And you can do it too! I am living proof that if you stick-with-it and want to be successful, you have the same or better chance of living out your dreams too.
4. Thought For The Day - Happiness
The foolish man seeks happiness in the distance, the wise man grows it under his feet. - James Oppenheim
5. Subscription Information
This newsletter was sent to you because you visited our website and completed a subscription form or requested one of our free gifts.
To Be Removed:
If you do not wish to continue receiving this newsletter please click the link at the bottom of this newsletter and follow the removal instructions.
To Subscribe:
Was this newsletter forwarded to you and you wish to subscribe. To be put on our mailing list just go to our main newletter page and complete the popup subscription form. Your address won't be shared with anyone else.

To Change Addresses:
Do you wish to change the address this newsletter is mailed to? To do so, click the link at the very bottom of this email which says: "To stop further mailings or to change your details, click here". This will take you to a page that will enable you to make these changes to your subscription.